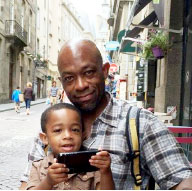 Dr. Huey is an Associate Professor of Psychology at USC, with a joint appointment in American Studies and Ethnicity. He received his Ph.D. in clinical psychology in 1998, and joined the USC faculty in 2000. His research focuses on (1) psychotherapy effects with children and families, (2) cultural issues in psychotherapy, and (3) interventions in criminal justice settings.
Dr. Huey teaches courses addressing mental health, therapy, and diversity. Recent courses include abnormal psychology, culture and mental health, the psychology of African Americans, the psychology of racial bias, and race and crime. He is also Director of Graduate Studies in the Psychology Department.
As a licensed clinical psychologist, Dr. Huey has extensive experience treating trauma victims and youth with behavioral problems. He also provides clinical supervision to graduate students in clinical psychology. He consults in areas of diversity and cultural competence, evidence-based treatment, parenting and parent training, and program evaluation.
On a personal note, Dr. Huey is married to fellow clinical psychologist, Tonya Wood, who is Director of Clinical Training at Pepperdine University and has her own private practice (Tonyawood.com). He's also the proud father of 5-year old Ethan.